Our Relocation Services
Welcome to the Fargo / Moorhead Area
City/Neighborhood Info | Crime Data | Transportation | Healthcare | Senior Living | Academics | Culture & Recreation | News Stations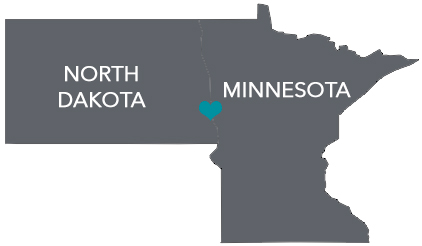 The greater Fargo / Moorhead area encompasses the following cities in North Dakota and Minnesota—Fargo, Moorhead, West Fargo and Dilworth. This area has population of over 224,000. It extends into rural communities in a 60 mile radius including Argusville, Barnesville, Casselton, Glyndon, Harwood, Hawley, Horace, Kindred, and Mapleton.
Cost of living, climate and demographic information can be found on the the GFMEDC site LiveInFargo.com or at the Fargo Moorhead West Fargo Chamber of Commerce.
City & Neighorhood Information
Crime Data
Transportation
Air Service - The area is served by the Hector International Airport with direct air service to Atlanta, Chicago, Dallas, Denver, Las Vegas, Los Angeles, Minneapolis-St. Paul, Nashville, Orlando-Sanford, Phoenix-Mesa and St. Pete with service by Delta, United, Frontier, Allegiant and American Airlines. The Fargo Jet Center also offers charter flights.
Mass Transit - The metro area is served by the MAT Bus (Metro Area Transit) with 24 fixed routes linking riders to employment, education, healthcare, entertainment and more.
Pay Per Service - The area has several cab companies and both Uber and Lyft operate in the area.
Healthcare
The Fargo / Moorhead area is home to some of the country's top healthcare institutions, offering high quality care with numerous specialties including Sanford Children's Hospital, a Children's Miracle Network Hospital and the Roger Maris Cancer Center. Other healthcare facilities include the following:
Senior Living
With great healthcare facilities nearby, many seniors choose Fargo / Moorhead for their retirement and there are several senior housing options available in the area.
Academics
The Fargo / Moorhead / West Fargo area is home to some of the best schools, colleges and universities in the country.
Culture & Recreation
For the Whole Family
Historical Attractions
Bonanzaville - A step back in time into pioneer life featuring historic building and museums.
Hjemkomst Center - Home to the famed viking ship, the Stave Church and the Chamber of Commerce.
Roger Maris Museum - A showcase of one of Fargo's favorite sons—Roger Maris and his athletic career.
Sports & Recreation
Performing & Fine Arts
Shopping
News Stations